ARCHITECTURAL DRAWING ● CENT ALANTAR
Assimilation and application of architectural principles.
CLASS DESCRIPTION
During these evening class with Cent Alantar, participants will study the anatomy and vocabulary of key architectural elements from different eras, and will be introduced to the principles of creating an architectural drawing.
Participants will be given the tools they need to create an architectural drawing, a setting based on observation, memory and, above all, imagination.
This course is designed for people interested in architectural drawing, as well as those wishing to work in concept design, illustration, comics, etc.
Theory, demonstrations and exercises will punctuate Cent Alantar's various courses.
LEVEL
Fundamental ● Intermediate ● Advanced
PRE-REQUISITE
Have a solid foundation in drawing.
REQUESTED MATERIAL
> Nostalgie 190g/m2 Sketch paper (smooth but not too fine) – A3 or A4 format
> study tracing paper, type Canson Satin 70 g/m2 – A4
> graphite powder
> drawing pencils – 3 or 4 hardnesses: F/HB/B/3B
> 3 flat-tip felt-tips: 3 shades of gray (light/medium/dark)
> breadcrumb eraser
> electric eraser
> eraser pencil
> stump remover
> large paintbrush or brush, to remove eraser peelings without damaging the drawing
> small container, like a coffee cup, for graphite powder
> roll of toilet paper
---
---
THE TEACHER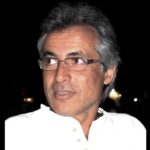 Born on June 27, 1960 in Istanbul, Turkey, to a painter father and pianist mother, Cent Alantar spent his entire childhood in Paris.
From an early age, he developed a passion for drawing. He began studying architecture and, after graduating in 1985, took his first steps into the world of architecture with the Claude Franck firm. In 1996, Disney Studios in Montreuil hired Cent.
Despite his lack of knowledge of the animation world, Cent quickly integrated the layout department. He started out on the animated film Hercules, then moved on to the production of Tarzan and the sets for Kuzco. The studios then chose Cent to create all the sets for the short film Destino, his biggest project for Disney.
After the closure of Disney's Montreuil Studios in 2003, Cent resumed his work as an architect and took part in a number of artistic projects.

https://www.instagram.com/centalantar
Program
Monday, August 28th, 2023
Course

-

1

Walls & Partitions
Monday, September 04th, 2023
Monday, September 11th, 2023
Monday, September 18th, 2023
Course

-

4

Terraces & Balconies
Monday, September 25th, 2023
Monday, October 02nd, 2023
Course

-

6

Chimneys, gutters,...
Monday, October 09th, 2023
Course

-

7

Façades & Huts
Monday, October 16th, 2023
Course

-

8

Village square
Monday, November 06th, 2023
Monday, November 13th, 2023
Course

-

10

Interior architecture
Monday, November 20th, 2023
Course

-

11

Interior architecture
Monday, November 27th, 2023
Course

-

12

Interior architecture
Monday, December 04th, 2023
Course

-

13

Interior architecture
Monday, December 11th, 2023
Course

-

14

Interior architecture